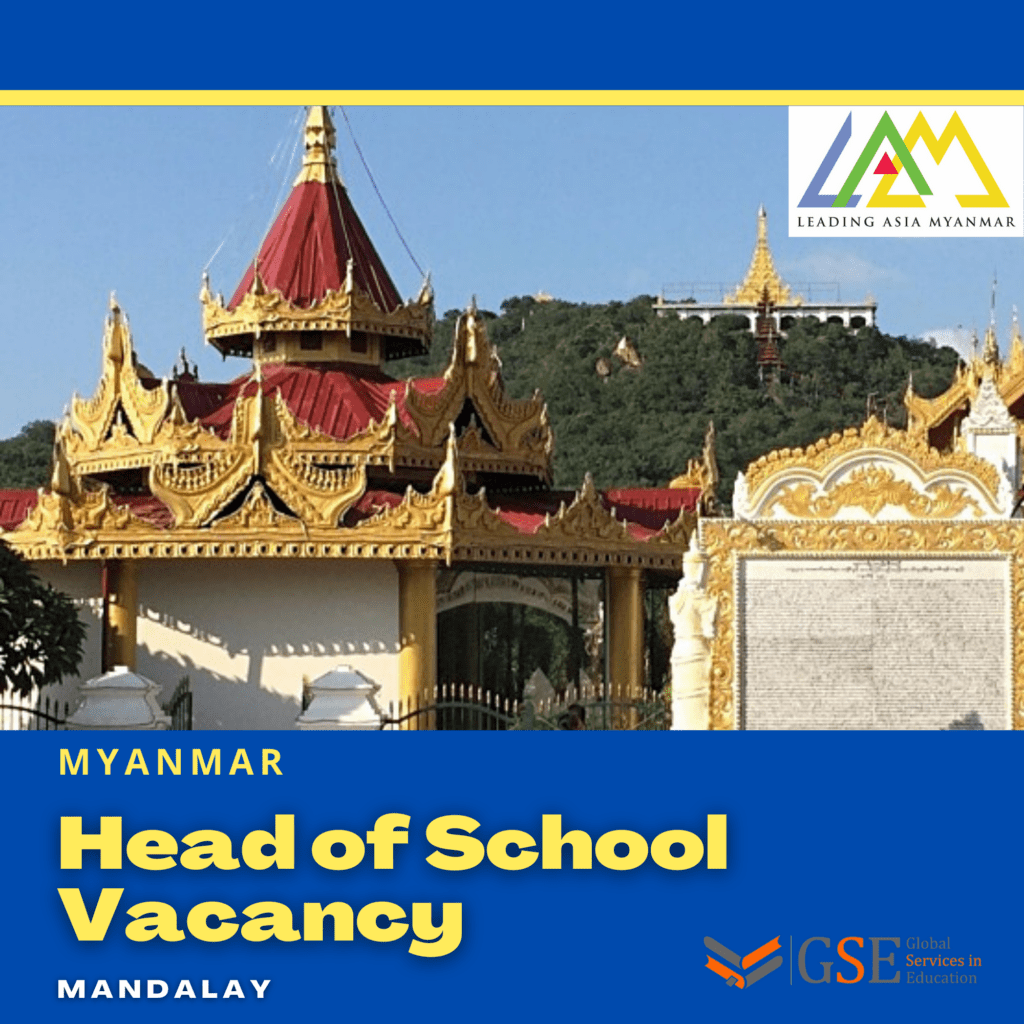 Vacancy IB Principal/Head of School
Leading Asia Myanmar International School (LAMIS) is a GSE managed school in partnership with the LAMIS Board of Governors in Mandalay, Myanmar. An immediate vacancy exists for an experienced IB Principal.
The school is an IB candidate school with an exciting vision to bring the highest standards of education to Myanmar.
Background
Leading Asia Myanmar International School (LAMIS) was first launched just over one year ago. The school has so far been operating online due to:
The Covid-19 Pandemic
A Military Coup that restricts many things, including the ability for foreign teachers to travel to the country
We do not expect the school to operate "face to face" until at least September 2022, pending a change in current restrictions.
The school is a PYP candidate school and is also pursuing DP candidacy in the near future.
GSE has just recently begun its management partnership with LAMIS. (September, 2021)
The Position:
We seek a strong leader with IB experience to lead the school, initially online.
Currently, the foreign teachers are working from multiple locations outside of the country.
Essential Qualities:
Strong IB Background and Experience
Location within the same or similar time zone (Asia Pacific) or the ability to work 100% within this time zone, online.
Experience in delivering high quality virtual and online teaching programs.
Experience working in a school start up and an understanding of the cultural and environmental context of Myanmar, at this time.
Immediate start.
Applications:
Interested candidates, please send your CV and cover letter to:
Please include the subject title: Myanmar Principal Application

Global Services in Education set up and operate schools in all parts of the world. Governed by a philosophy of global citizenship, every member of the GSE team shares a passion to help shape international education and student achievement through inspiration and collaboration.
Our goal is to meet the highest objectives of every school, teacher, student and parent, with an unwavering dedication to quality education, shared ideals and intercultural perspectives.
– School Management
– Strategic Planning
– Feasibility Studies
– Architectural Conceptual Design
– Interior Design
– Resources
– ICT Planning
– Marketing
– Branding
– Admissions
– Staffing & Recruitment
– Curriculum Design
– School Policies
– School Audits & Action Plans
– Training & Development
– Accreditation & Licensing