GSE's worldwide family of schools attest to our experience, expertise, and success in establishing educational institutions that meet or exceed international standards.
Collectively and individually, our uniquely qualified team of experts has extensive experience in all levels of education from early education, elementary, and secondary to vocational, university and corporate training environments in most regions of the world.
Additionally, our worldwide network of established and reliable professionals means that GSE is effectively a "one-stop-shop" from concept to completion. Our proven record reflects a determined investment in people, systems and support structures.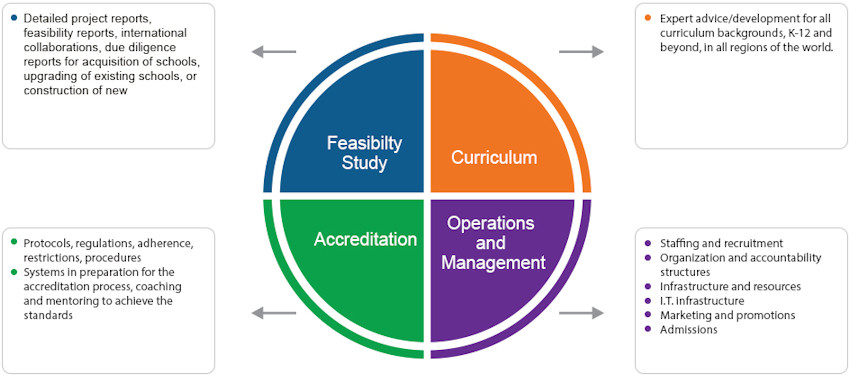 Our consultants provide service and support from feasibility studies through to management and leadership of international schools of all curriculum backgrounds, K-12 and beyond, in all regions of the world.
Feasibility study (New schools or buying a school)
Business and development plan
Project management including:

Conceptual building design and review to maximize learning
Curriculum
Staffing and recruitment
Organization and accountability structures
Infrastructure and resources
I.T. infrastructure
Marketing and promotions
Admissions

Operation and Management
 Ultimately, the success or failure of a school is directly tied to student success in learning. Even with every other element neatly in place (beautiful campus, highly qualified instructors, progressive leadership), without a robust curriculum all other external measurements of success are mute.
One of the most essential contributions we make, is through a collaborative effort in building a challenging and relevant curriculum that is a direct reflection of your school's philosophy and goals.
Based on our collective years of experience, best practices research, and the most current information available, we will help you create an engaging core curriculum designed to inspire students to reach their fullest potential.
GSE has extensive experience working with all major curriculums including, but not limited to:
US Curriculum
Australian Curriculum
Finnish Curriculum (GSE are proud partners of New Nordic School)
Virtual and Online Schooling
*GSE design and write specialist curriculum for a range of purposes.
Whether you're launching a new school, or re-evaluating an existing curriculum, staff, or administration, GSE's team of proven professionals can guide the way to success.
From the ground up, or a top to bottom makeover, we have the tools, experience, and people to guide you every step of the way!